DigitallyDownloaded.net wouldn't be the website it is without its mascots. Dee Dee, Nettie, Lorin and Amelia don't just appear in our visual novels (don't forget to check out the free demo for the upcoming A Week on the Water if you haven't yet!). They also appear across the website, representing everything from our news segments, to podcasts, to the Dee Dee Zine, and our awards.
If you're a fan of the girls (and we might be biased here, but we reckon they're all gorgeous!) then we've set up a massive online merchandise store. It's via RedBubble, which we selected for the uncompromisingly high quality of the products that they produce, as well as their ability to ship just about anywhere in the world, quickly.
You can be sure that with RedBubble you're not just getting great art on stuff, but the stuff itself is truly premium, lasting quality.
There are now 25 designs on our RedBubble store, and hundreds of products, ranging from notebooks to clocks, pillows to stickers, posters to clothing. We thought we'd start a weekly feature looking at some of those products, highlighting new designs in the store, and showcasing the most popular goods.
Today's theme is wall art. Everyone likes sticking up a good poster, tapestry or even canvas print, and Redbubble does the lot, to an incredibly high standard. Whether this is for your study, bedroom, or other part of the house, you can be sure the incredible artists that work with us will brighten up your spaces.
Classical paintings do look better on canvas, so of course, we were going to put this gorgeous homage to Degas, featuring Dee Dee the ballerina, as a canvas option. This is a favourite art for many of our readers because it blends classical art style, and a more realistic take on the DDNet mascot, with a really lovely post and use of colour.
We commissioned this art to celebrate Australia Day, as it combines a bunch of iconic Australian things with the DDNet ethos. We've got cricket (Australia's summer sport, bar none), the Aussie flag, and the beach there in the background. Beaches also mean bikinis, and Dee Dee does like her swimwear. Combine it all and it is in many ways the ultimate DDNet art, and it makes for a cheerful, fanservicey and fun poster, which Redbubble can print for you nice and cheaply.
Art board prints are super-high quality "cards", that are printed onto a thick stock that has been designed to really make the depth of colour pop out. Most of the art available in our store has an art board print option, making it the perfect (and inexpensive) way to collect prints of all our art. This Nettierella one is one of our favourites, with Nettie – the "wild firecracker" of the crew, looking gorgeous in her Barbarella homage.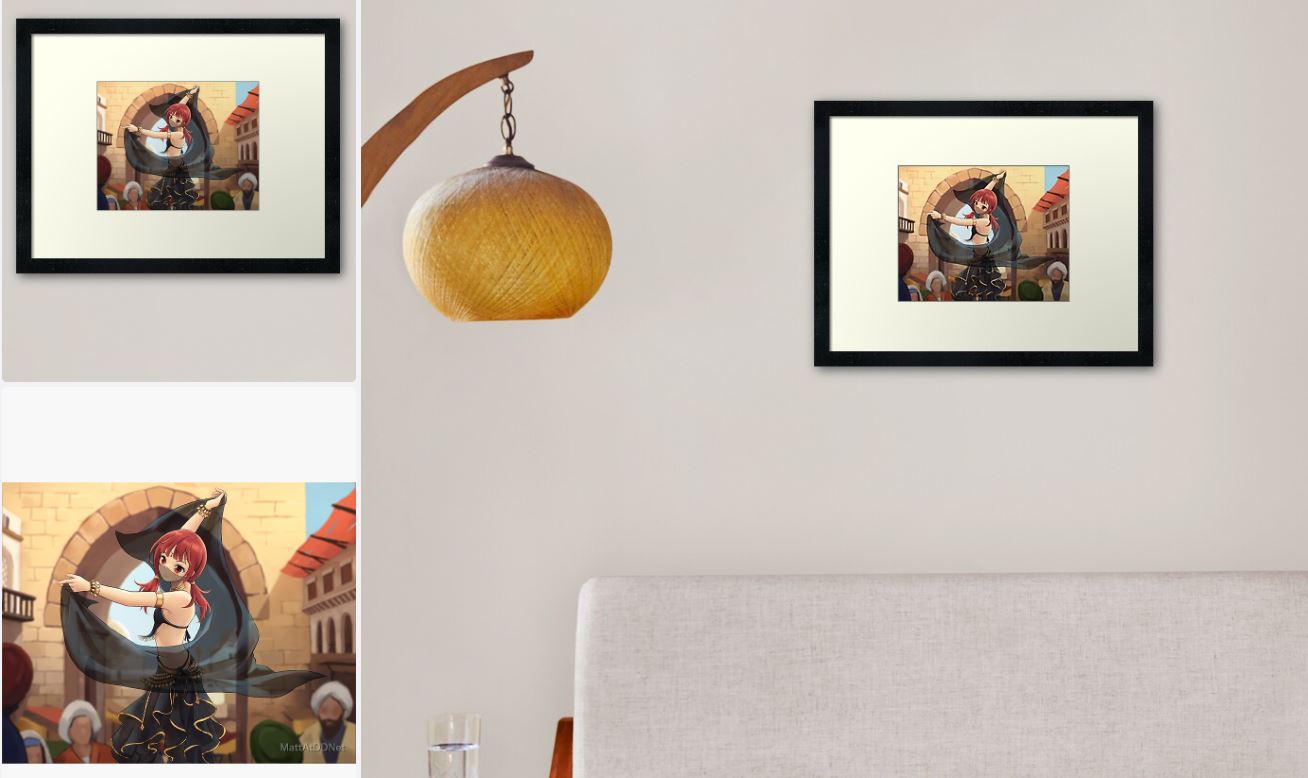 For anyone that really has a favourite art that we've created, this framed print option is for you. As you can see, the presentation of the print within a frame is gorgeous, art gallery stuff, making it the centrepiece of whatever room you choose to hang it in. We rather like the way that Amelia shows up in this print, in her scene taken directly from the aesthetic of One Thousand And One Nights.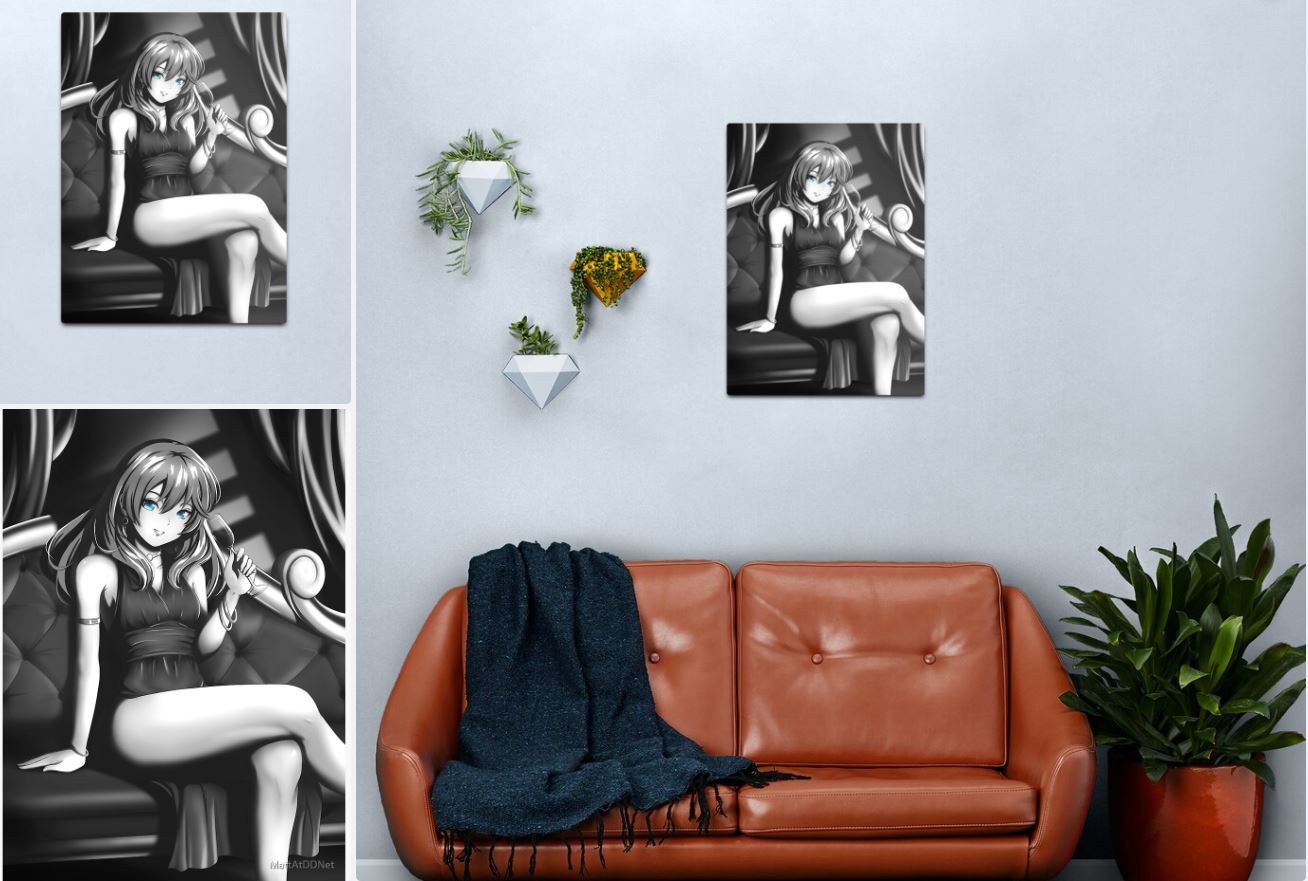 Finally, we have the most premium product of all: the metal print. These are certainly on the expensive end of the spectrum, but there's good reason for that: the printing technique for metal prints means that the image comes up with greater depth of colour (which is especially relevant for high contrast black-and-white, such as this Dee Dee Noir art), and the print won't be affected by humidity, sunlight, or other general wear-and-tear. This art will last for decades, which makes it ideal for preserving your very favourite Dee Dee art work into perpetuity.
This is just a fraction of the hundreds of items available at the DDNet merchandise shop. If you're a fan of the art we produce, why not go and check it out for yourself? Not only do you get high quality, lasting goods from one of the best custom printers in the world, but you also support DDNet and everything that we do. Visit the full store here.