Mary Skelter Finale may be banned in Australia (don't even get me started on that) but it's definitely worth getting regardless: in his review of the game for Nintendo Switch, Matt called the series as a whole "both mechanically deep and thematically rich" and stated that the finale is "the complete realisation of the intent of the series." Now, the Nintendo Switch isn't region locked so it's fairly easy to get around the ban… but soon there will be a second non-locked platform available to play the game on: PC. The worldwide release is set for later this year,
The game is called "Mary Skelter Finale" for a very obvious reason: it is the finale of the trilogy that also includes Mary Skelter: Nightmares and Mary Skelter 2. Jail is a living prison for humans, buried 666 meters underground. Its appearance was sudden, prompting the birth of monsters called Marchen. It's patrolled by madness-inducing Nightmares. Jack and the Blood Maidens were a group of prisoners who dared to escape; each is a reincarnation of a fairy tale character. They climbed to the surface, filled with hope.. but instead found thousands of corpses soaking in a sea of blood. Beings known as Massacre Pink stood there, smiling. There goes any hope. The group was torn apart, each taking their own path. This game is the finale of the tale of the Blood Maidens.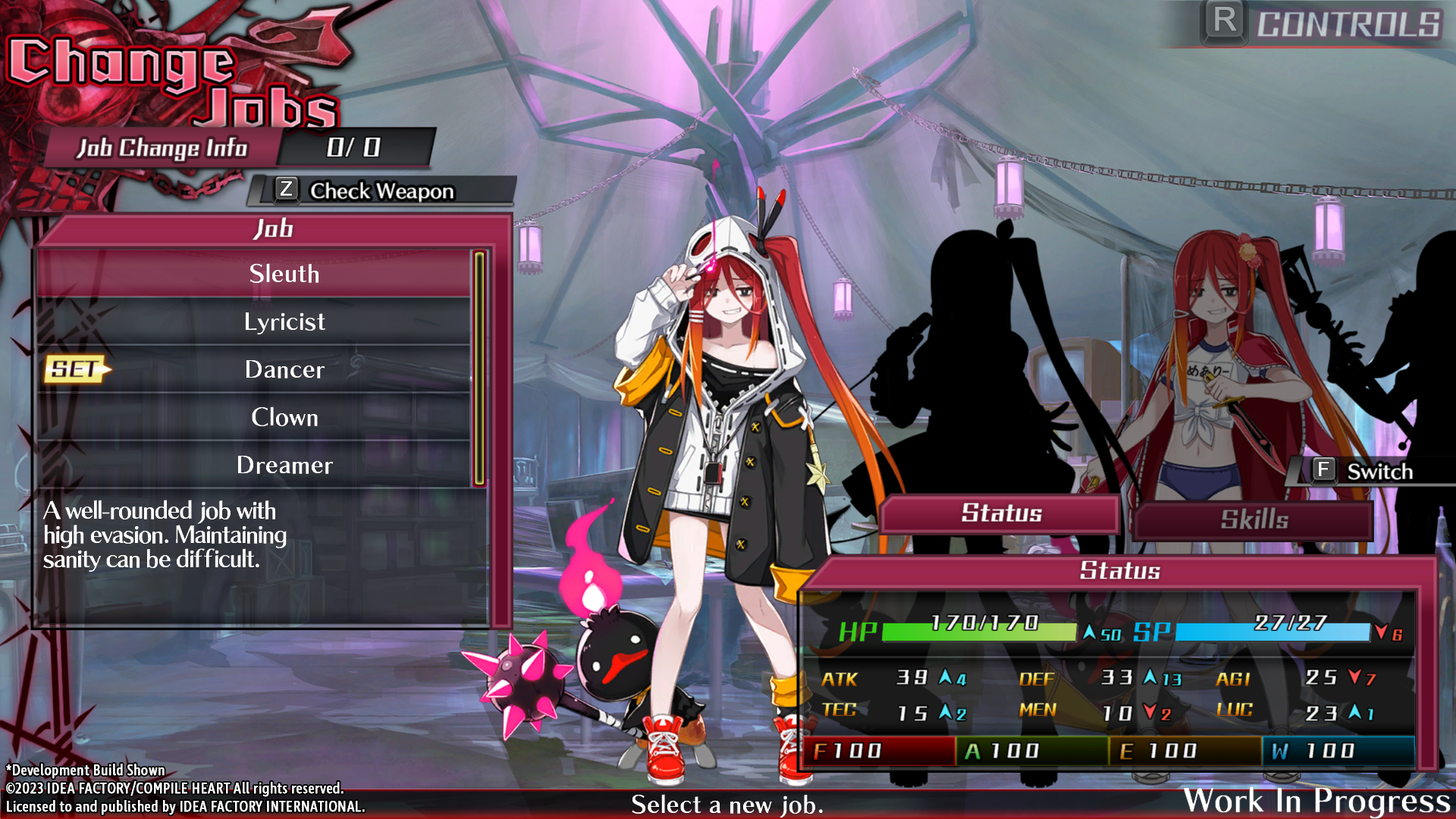 The upcoming PC version of Mary Skelter Finale will include (embedded) all previously-released DLC for the game. The list is a long one! Players will have access to:
Grand Finale Bundle

Mary Skelter: Locked Up in Love – True End
Supply Drop, including x1 Energy Drink, x1 Medical Doctor, x1 Complete Cure
Traveler's Equipment, including Half-Helmet, Robust Cross, Apprentice's Armband, Bracelet of Hard Knocks, Swiss Army Knife
Mary Skelter Job Set I
Mary Skelter Job Set II
Purification Gallery Unlock
Mary Skelter 2 Job Set I
Mary Skelter 2 Job Set II
Death end re;Quest Attire Set

Kitty Sweater Set

Unlocks the Kitty Sweater Set F Job Class for Thumbelina, Gretel

T-Healer Set

Unlocks the T-Healer Set F Job class for Rapunzel, Little Mermaid

Pyre's Uniform (Job)

Unlocks a Job class for her that includes more healing skills

Spa Set

Unlocks the Spa Set F Job class for Mary, Charlotte

Magician Set

Unlocks the Magician Set F Job class for Sleeping Beauty, Hameln

JO-Singer Set

Unlocks the JO-Singer Set F Job class for Red Riding Hood, Kaguya

G-Assassin Set

Unlocks the G-Assassin Set F Job class for Alice, Otsuu

R-Clown Set

Unlocks the R-Clown Set F Job class for Cinderella, Snow White
Developed by Idea Factory/Compile Heart and published by Idea Factory International, Mary Skelter Finale will be released for PC via Steam in "fall" 2023; I take that to mean the four quarter. Mary Skelter Finale first launched for PlayStation 4 and Nintendo Switch in Japan in late 2020. The European and North American versions came just under a year later.