Japan has a vibrant music industry, but it's often tuned towards the domestic market, with copyright-drenched TV shows and a heavy emphasis on local tours. That can make it hard to enjoy your favourite acts, but there's one wildly popular solution, and they've got something special on the way.
It's a YouTube music channel called The First Take, in which fans can watch films of their favourite artists performing in a single take. The set they perform on is a white space, a single mic, and the music – i.e. it's a channel about a complete focus on the artist and their performance with none of the showbiz nonsense. It is wildly popular, with over six million subscribers worldwide, and now they have two "conceptual concerts" on the way in June to look forward to.
During these ticketed special events, "Inside The First Take" you'll be able to see the artist's music performance, but before that, with each act you'll get to enjoy an exclusive documentary about the track (with English subtitles, don't worry), which will give you greater insights into the songs.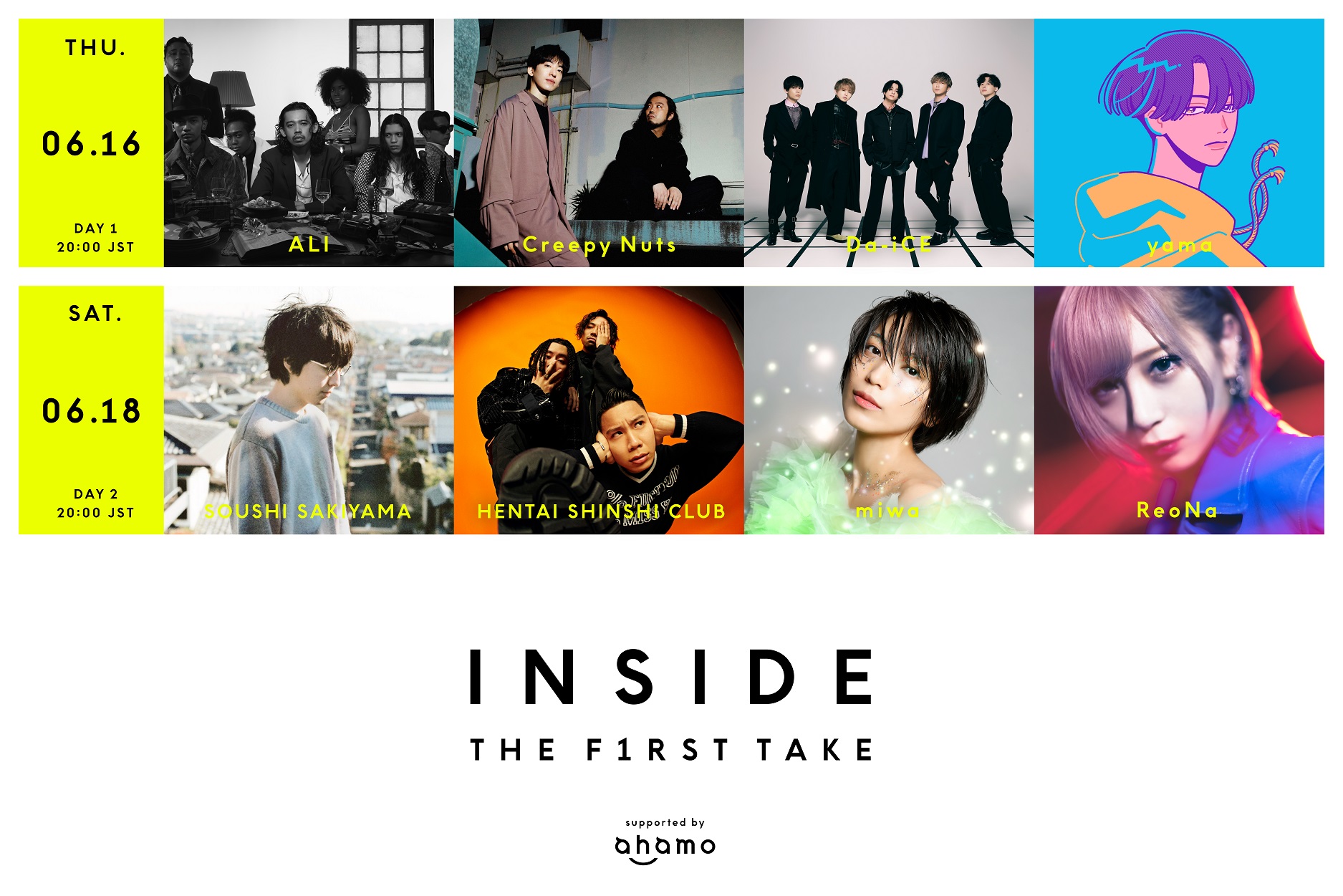 These performances will all be live, and there's some really good acts involved, including ALI, yama, Soushi Sakiyama, HENTAI SHINSHI CLUB, and ReoNa. A lot of the names set to perform will be particularly well known to anime fans, with acts having provided music for Jujutsu Kaisen, Ranking of Kings, and Sword Art Online.
Unfortunately streams will be limited to the following nations (I told you Japan is tight with IP, especially around music: Japan / Taiwan / Hong Kong / Macau / Thailand / Malaysia / Singapore / US / Canada / Mexico / UK / Germany / France / Italy / Spain / Australia / New Zealand / Brazil / Peru.
The streams will occur on June 16 and June 18. On both days the concerts will start at 20:00 and finish at around 22:30, though they will be available for about a week afterwards if you happened to miss them live.
Finally, each day's ticket will cost you around 2,000 Yen (US$20 or thereabouts, depending on your exchange rate).
If you're a fan of Japanese music, or just keen on something a little different, I do highly recommend you tune in. I've bought tickets for a fair few of other streaming concerts out of Japan over the course of COVID-19, and they're a good time! Combined with the production quality of The First Take, and the informative documentaries and insights that are being promised, this could be a great way to get a bit of culture into you come June.