If you think of a Corsair HS55 as a general-purpose, all-day working and gaming tool, it's hard to be disappointed by it. It's certainly not a premium headset, but I can see so many uses for this, and indeed I find myself reaching for it more than any of the other headsets I have floating around, thanks to its focus on lightweight comfort and being an all-round quality product.
The first thing to understand about the HS55 is that it is a no-frills device. The only connection option is a traditional 3.5mm wired jack. The microphone is not detachable, meaning that you're not going to use these as a double as a music or Switch headset on public transport (unless you don't mind looking like a contact centre professional that never takes their headset off). The headset is light at 284gms, but that comes at the expense of apparent build quality. It's fine in the hand, just don't throw it. Finally, the headset uses 50mm neodymium audio drivers, capable of 20–20,000Hz output. That's totally adequate. Nothing that's going to blow you away, but also something that is versatile and works as well for playing games as it does watching films or anime, or tuning out to music while you're typing away at the work desk.
In so many ways this headset would be an unremarkable, entry-level headset, except that it really does work as a headset that you don't take off all day. The light weight is distributed across the head beautifully, the headphones themselves are large and, courtesy of nice soft memory foam, it can sit on the ears for hours without causing irritation or tiredness. I'll give you an example from my own day: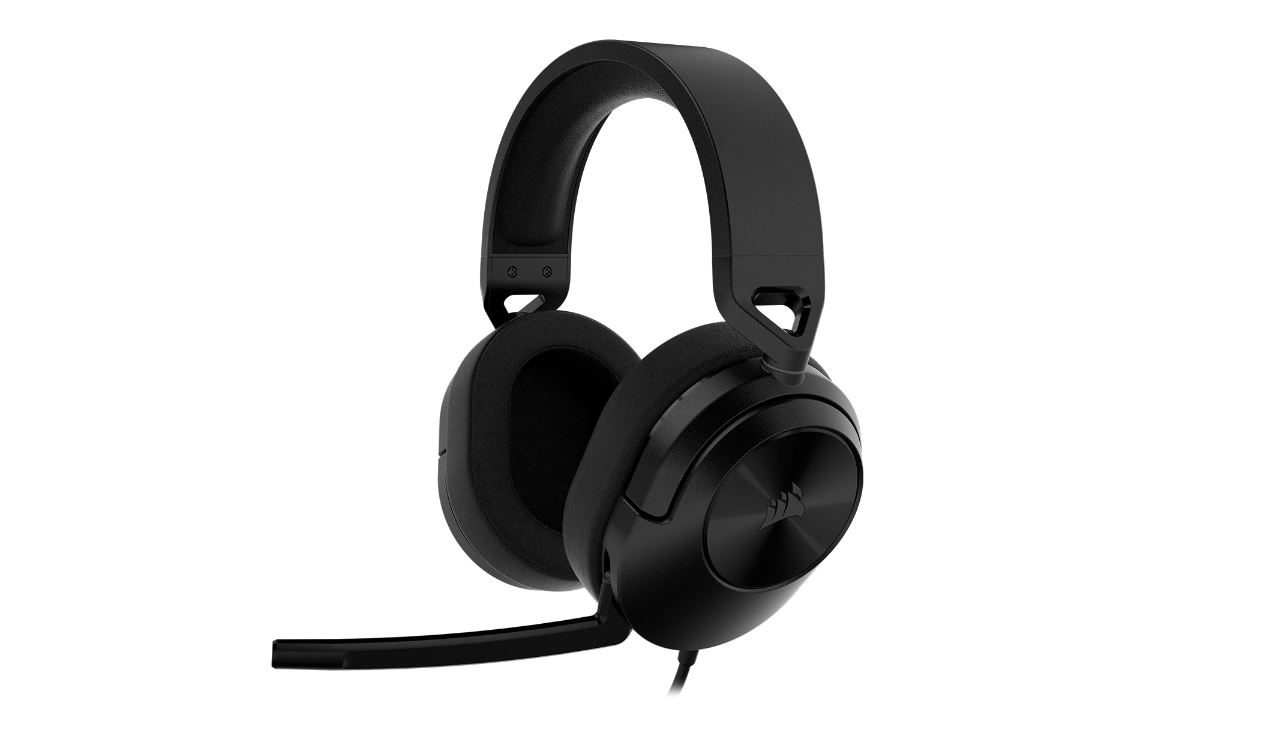 I generally like to have simple ambient sound around me as I work. When I need to concentrate I will put on rain noises, as that tunes out everything around me, while also not distracting me like music tends to. I've been able to go for basically an entire day with this headset on and never feel the need to give my ears a break.
When a call comes in over Zoom or Skype, I simply drop the mic and jump on in. The HS55 captures and delivers the voice nicely. You're not going to be recording podcasts or streams using the headset, but for the purposes of a business meeting, chatting with friends on Discord, or playing a game online, it's perfectly sufficient and resistant enough to ambient noises that you won't need to constantly mute yourself when you're not talking, for fear of upsetting the entire meeting.
Then you finish work, and want to kick back with a beer and game. The 3.5mm jack is still enormously useful on modern gaming platforms, from the Nintendo Switch to the PlayStation controllers, as well as the PC and even emulation consoles. With the right adapters, mobile devices are in, too. Are there headsets that deliver deeper bases for action games, have Bluetooth and 2.4Gz wireless, and allow you to mess around with settings to customise your experience? Yes, but the HS55 doesn't have batteries that need charging and are already comfortably on your ears after the work meeting or article is finished. The only time that I was disappointed with the headset is that sound is slightly tinny when its at a higher frequency, but even then it's better than most headsets at around this price range.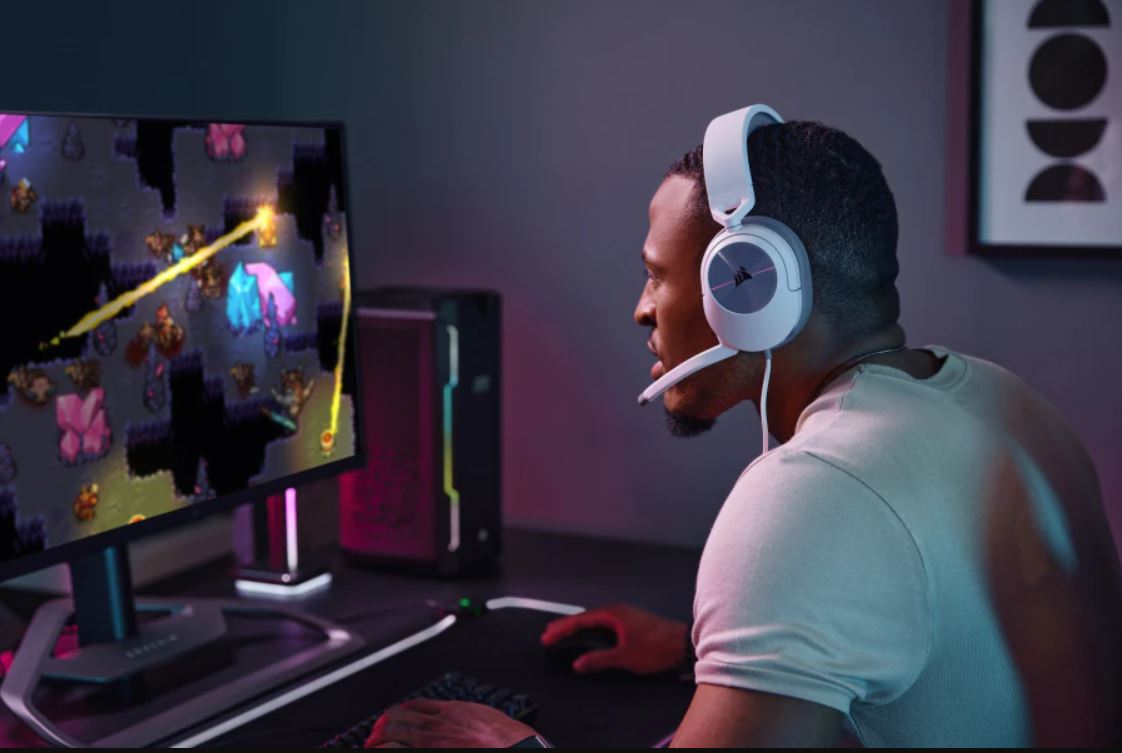 All-in-all, it's convenient, and the convenience that allows you to use it all day long does not come with a decline in quality that's enough to care about in 99 per cent of cases. Finally, at night, these headphones are comfortable to relax with and listen to some music while reading a book in bed, before finally tearing them off when it's time to sleep. It is, quite genuinely, possible to go all day with the H55 on, and the rest of the world tuned out. The one exception is, again, the unfortunate fact that the microphone cannot be removed to turn the headset into an "out and about" device, too. It's a good microphone that's easy to manipulate into an ideal position, but I always prefer to have detachable mics for those times when I just want to listen.
If you haven't got a big budget for sound equipment, then the Corsair H55 is a good option, as the all-purpose nature of it and the fact that it's actually good at pretty much every task makes it good for both work and play, and thanks to that mic, neither your co-workers nor squadmates will complain about your choice in headset at all.
Meanwhile, if you have already got a premium headset, then the Corsair H55 is still a good pickup. It's a useful backup headset, and the lightweight and ultra-comfortable design means that it's probably better to use for long periods, and when you're not after the deepest of immersive experiences. It's not exactly a headset that you love and savour using for the pure, premium sound experience it provides, but rather it's like a draft horse on a farm: it never seems to stop working and you'll be certainly glad to have it around for the many things that it is good at.